Community Supported Agriculture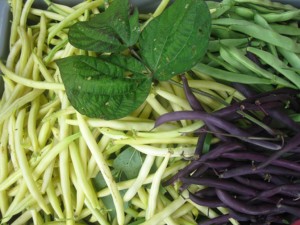 CSA stands for Community Supported Agriculture. It is one of the most direct connections with the farm that is producing your food. It is also a way the consumers share both the risks and joys of farming. For an upfront fee, members become seasonal shareholders in the farm harvest.
When you become a member of a CSA you commit yourself to supporting a farmer for a season by helping to pay for seed, soil amendments, and growing supplies. In return, the farmer will provide you with a variety of fresh, high quality produce throughout the growing season. Martha's Farm CSA assures a harvest by successive planting throughout the season. We will be harvesting during the growing season. You will receive a portion of everything that ripens during a particular week.
CSA Packages

-Our  Summer CSA program presents two types baskets for you to choose from:
VEGAN. Healthy, vitamin concentrated, fresh veggies plus berries, apples and grapes.
VEGETARIAN. Healthy, vitamin concentrated, fresh veggies, berries plus free-range eggs, no GMO.
The Summer CSA season runs for 18 weeks starting June to  September. The price for this season is $440 for one share, and you will pick-up a weekly basket, about  half bushel to a bushel basket.
Pick ups  at the farm on Wednesdays  from 3pm to 6pm.
We deliver CSA shares to  customers:
Peninsula- Countryside Farmer's Market at Howe Meadow on Saturdays from 9 am to noon.
Akron- Countryside Farmer's Market at Highland Square on Thursdays from 4 pm to 7pm.
Hudson Farmer's market at Hudson on Saturdays from 9:am to 12:pm.
Please  contact us for more information at MARTHA@MARTHASFARM.COM

CSA Produce for 2017   Summer Season

Gourmet Salad Mix
Kale
Oriental Greens
Mizuna-Mustard
Cabbage
Fava Beans
Green Onions
Lettuces
Spinach
Asparagus
Radishes
Tatsoi

Gourmet Rainbow Peas
Rainbow Beets
Chard
Basil & Herbs
Cucumbers
Rainbow Carrots
Onions
Garlic
Leeks
Squashes
Melons
Cantaloupe
Eggplants

Broccoli
Cauliflower
Rainbow Beans
Gourmet Cherry Tomatoes
Heirloom Tomatoes
Peppers
Potatoes (4 varieties)
Sweet Potatoes
Turnips
Rhubarb
Strawberries
Red raspberries
Black raspberries
Apples (vegan)
Grapes(vegan)
Membership Application
CLICK HERE to fill our online form.
Because we believe in sustainable farming and work to nurture the earth while using its resources, our techniques are all natural organic and we work intensely to provide fresh and healthy vegetables throughout the season.
We are licensed inspected by the Department of Agriculture State Ohio.
Our Amish-Ecuadorian-American farm is located 7 miles from Ashland and 20 miles from Mansfield. To contact please send us an email at: martha@marthasfarm.com
We thank you for supporting the sustainable growing methods and local economy.