Community Supported Agriculture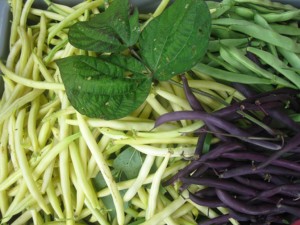 CSA stands for Community Supported Agriculture. It is one of the most direct connections with the farm that is producing your food. It is also a way the consumers share both the risks and joys of farming. For an upfront fee, members become seasonal shareholders in the farm harvest.
When you become a member of a CSA you commit yourself to supporting a farmer for a season by helping to pay for seed, soil amendments, and growing supplies. In return, the farmer will provide you with a variety of fresh, high-quality produce throughout the growing season.
CSA Packages

Our CSA program offers two kinds of baskets for you to choose from:
VEGAN. Healthy, vitamin concentrated fresh veggies plus berries, apples and grapes. The price for one share is $30 per week.
VEGETARIAN. Healthy, vitamin concentrated fresh veggies, and berries, plus free-range eggs, no GMO. The price for one share is $35 per week.
Our CSA season runs from May to October, and for a weekly pick-up, each bag will be about a half bushel to a bushel in size with fresh vegetables and fruits, and extra items when we have an abundant season production.
We are flexible to accommodate your needs and we will make it easy for you to chose the months you would like to receive your CSA share. We offer a 30% discount price for a full CSA season of six months and  15% discount for half of the CSA season of three months.
PICKUP OPTIONS:
Alternative pick up locations besides coming to the farm include:
Peninsula– Countryside Farmer's Market at Howe Meadow, 4040 Riverview Rd. Saturdays from 9 am to 12 pm.
Hudson–  Hudson Farmers Market at 103 N Main St. Saturdays from 9 am to 12 pm.
Cleveland,  North Union Farmer's Market at University Hospitals Cleveland Medical Center at Lakeside
2074 Adelbert Road, Thursdays from 10:30 am to 1:30 pm.
Akron Countryside Farmer's Market at Will Christy Park,  1175 W Exchange St. Thursdays from 4 pm to 7 pm.
Lyndhurst, North Union Farmer's Market at the central parking lot of the Legacy Village,  24325 Cedar Rd. Sundays from 10 am to 1 pm.
Also, you can use OHIO FOOD STAMP CARD to pay CSA share at these Farmer's Markets.
Wooster, at the parking lot of Local Roots Market, Wednesdays from 1 pm to 1:45 pm.
and Farm picks up on Tuesdays from 3 pm to 6 pm.
Note:  You can use the OHIO FOOD STAMP CARD to pay for a  Martha's Farm CSA share at any Countryside Farmer's Market, North Union Market, and also the Hudson Farmers Market.
CSA  vegetables and fruits  for 2018   Season

By using the method of successive vegetables planting throughout the season and our great amount of perennial fruits, our farm CSA bags offer fresh products that just ripen during a particular week.
Gourmet Salad Mix
Kale
Oriental Greens
Mizuna-Mustard
Cabbage
Fava Beans
Green Onions
Lettuces
Spinach
Asparagus
Radishes
Tatsoi

Gourmet Rainbow Peas
Rainbow Beets
Chard
Basil & Herbs
Cucumbers
Rainbow Carrots
Onions
Garlic
Leeks
Squashes
Melons
Cantaloupe
Eggplants

Broccoli
Cauliflower
Rainbow Beans
Gourmet Cherry Tomatoes
Heirloom Tomatoes
Peppers
Potatoes (4 varieties)
Sweet Potatoes
Turnips
Rhubarb
Strawberries
Red raspberries
Black raspberries
Apples (vegan)
Grapes(vegan)
Membership Application
You can apply by sending an email to martha@marthasfarm.com with your name, phone, type of CSA, the months you would like to pick up your CSA, the location for your CSA delivery and how would you like to pay.
We are licensed inspected by the Department of Agriculture State Ohio.
Our Amish-Ecuadorian-American farm is located 7 miles from Ashland and 20 miles from Mansfield. To contact please send us an email at: martha@marthasfarm.com
Thank you for supporting  Sustainable Farming.