Pastured based poultry 2017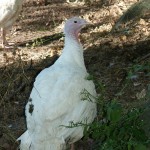 Our poultry are kept in small groups in large mobile pens that allow plenty of room for running around in, unlike the crowded corporate herds. These mobile pens also protect them from predators and from becoming tough and muscular. ¼ of the pen is sheltered against harsh weather leaving ¾ open to fresh air and sunshine. We move the pens for fresh pasture everyday and twice a day the last month. Their diet is supplemented with locally grow, fresh grinded and all natural ingredients,  GMO free. Our processing is on site for less stress to the birds and are quickly cooled down and brought to or our giant fridge.
To place an order please contact us.